Show Results
For a small stud we are proud of our latest show results.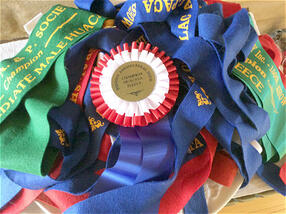 Dandura Tiro 2017
Champion Fleece Dandura
Reserve Adult Champion, Dandura Electra
Welcome to Dandura Alpacas.

If you are interested in becoming an alpaca owner or in broadening your herd's genetics, contact us. We will help you choose suitable animals and are happy to answer any questions you have about breeding, caring for alpacas and paddock layout.
Who we are
Dandura is a small alpaca stud located on 51 acres in the beautiful granite hills of Harcourt North in Central Victoria.
Jenny & Keith McKenry are joint owners of Dandura Alpacas. In 2005 they left careers as senior administrators and moved with their small herd of previously agisted animals to Central Victoria. At the time neither Jenny or Keith knew anything about establishing an alpaca farm or caring for animals. It has been a big and wonderful learning curve and a successful tree change.
Jenny now runs Dandura Alpacas. Keith assists on the property while also managing a small publishing and recording business (Fanged Wombat Productions) and working as a writer and performer. He also runs a small flock of Wiltshire Horn Sheep.
Reasons you should consider Dandura Alpacas
We are a family business and know our animals.
Quality genetics.
We are happy to share our knowledge with you.
We can help you select alpacas that suit you and your budget.
We have animals suitable for new breeders and animals from champion lines.
We have a targeted breeding program focused on producing better animals.
We have quality studs to service your females.
We train herd guards with sheep and chooks.
We give discounts to repeat clients.
We offer herd packages.
We have fleece available for spinning and felting.